Medical Spotlight
Yesterday, I had my monthly check up and while he confirmed I was doing everything right (brought in lots of records and trackers showing what I had changed in the last month) he was unable to explain why the sugars have not gone down... so we go up on the insulin, alot! The lifestyle change have another month to work before I get Mad!
CPAP.... So, I have been on a CPAP for years. Not very faithful with using it until about a month ago. Did you know that some people who are on a CPAP are on it because they stop breathing at night? Yep! A CPAP is a machine that forces people to breath. When you don't breath at night your body reacts by releasing stress hormones and adrenalin to force system response and breathing. It ages your organs and puts intense strain on them, when they should be resting and healing from the day activities. It can help reduce blood sugar, heart rate, weight and all the other really necessary things you need your body to be kind around.... No one told me I held my breath at night!!! I was told it would give me energy when I woke up, it did not so I stop using it faithfully. Every once in a while when I got tired enough I would strap it on but lets face it... it is not a fun thing to wear. I feel like I am in a hospital bed when I wear it.
We went and had my CPAP machine checked out and I got a fun new head piece....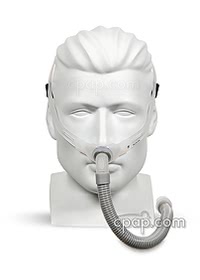 So much more sleeker than my old one.... but..... it did not seem to create enough positive air pressure last night and I had 7 occurrences of waking up due to breathing issues. We are giving the new mask a week.... if it does not work then I will have to go to a full face mask. UGH!
Here is more info on CPAP's:
http://blogs.webmd.com/sleep-disorders/2011/01/more-reasons-to-use-your-cpap.html
Fitness Spotlight
As you know, I started with a personal trainer this week (OUCH). She is great! Learned how to use a Fitness Roller. This little round toy, showed me quick how un-flexible and stressed my muscles are - especially the ones I did not know I had! After the work out of trying to bend a board over a enlarged rolling pin - we headed to Fred Meyers to get one. Since the workout with the trainer I have used it 4-5 times and my husband has used it at least that much (actually a lot more, I think he is addicted to the massage effect it gives). We are both exceptionally sore in spots.
If you are not active and want to start getting active, I would strongly recommend the Fitness Roller! It is easy and you really do notice a difference after the first use! Here are a couple You-Tube videos to help you get started:
This is the basic 5 that I was shown this week with my trainer:
Here is a whole 10 minute work out devoted to the roller:
Another good video for beginners that goes a little farther and introduces weights.
Lifestyle Change Schedule:
Possible CPAP refit - Coming in a week or two
BodyMedia Care - Coming in a week
Nutritionist (MD, RD) - Coming in two weeks
Trainer Session II - Coming in three weeks